Back to all
There are living galleries in Kampong Glam!
Civic & Cultural District
Kampong Glam Street Corner Heritage Galleries: Kampong Glam
If you're done visiting all the big national museums in Singapore, we are now inviting you to come and discover small, independent museums.
Located a stone's throw away from Heritage Collection on Seah is Kampong Glam's Street Corner Heritage Galleries. This is part of the National Heritage Board's (NHB's) initiative to raise awareness of and foster deeper appreciation for heritage in everyday spaces, that is through local shops and businesses in the district.
There are a total of 7 'living galleries' in this initiative and they are: Bhai Sarbat Singapore, Sin Hin Chuan Kee, V.S.S. Varusai Mohamed & Sons, Jamal Kazura Aromatics, Rumah Makan Minang, Sabar Menanti Nasi Padang and Warong Nasi Pariaman. Do any of these names sound familiar to you? Here's a quick introduction to some of them. 
Bhai Sarbat Singapore
For our teh halia (pulled ginger milk tea) fanatics, this name is no stranger to you! Home to one of the best teh halia in town, the store has been around since the 1950s. It initially operated out of a trishaw before moving into the shophouse in 1970. The store has set up tables and chairs along the five-foot way where one can enjoy a nice cup of teh and hang out with friends. Rumour has it that the teh is also best served in a plastic bag for you to drink on the go. You just have to say "teh plastic gantung" (literally translates to teh plastic hang) and you're all set.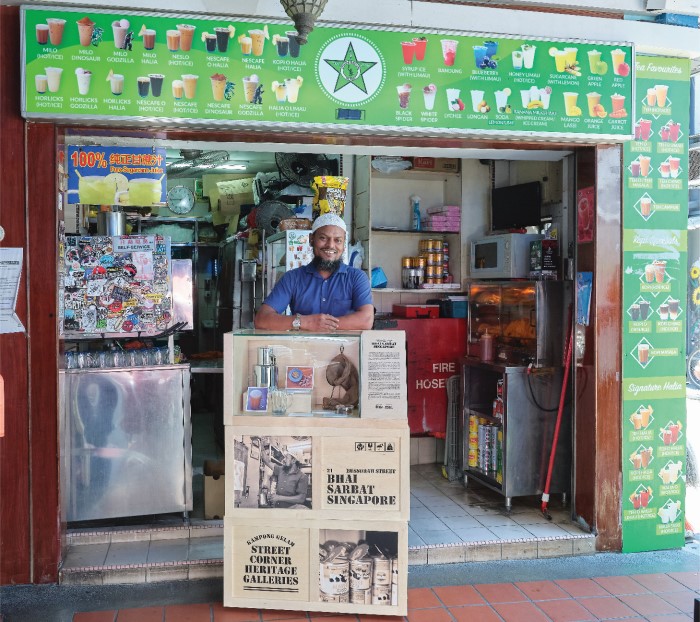 Photo courtesy of National Heritage Board.
Jamal Kazura Aromatics
A few steps away from Bhai Sarbat, be amazed with the endless variety of perfumes for those who are into perfumery. Founded in 1933, Jamal Kazura Aromatics has been concocting an extensive assortment of perfumes for almost 90 years. In its early years, the store also sold items such as books, gemstones and apparel alongside perfumes. In the mid-1970s after the founder's son took over the business, the store started focusing on selling perfumes, essential oils and incense. They also started specialising in minyak attar (non-alcoholic perfumes), which are popular among the Muslim patrons in the district. The perfumes are stored in small ornamental bottles which you can also bring home as souvenir. Drop by the store and have a chat with Mr Jamal or his son to learn more about the art of perfume making.
Here's Mr Mohamed Jamal Kazura himself. Photo courtesy of Jamal Kazura Aromatics' Facebook page (@JamalKazurasingapore).
The Street Corner Heritage Galleries are perfect for those who wish to learn more about these hidden gems that contributes to the districts' vibrant tapestry. Be sure to share your experience with @hericollsg when you visit one of these living galleries!