Back to all
Experience history and murder all in one with TRIBE Tours
Chinatown
Like many Singaporeans, we unite with our common complaint that there is nothing to do in Singapore. However, the interactive murder mystery game offered by TRIBE Tours (with a local flair) proved us wrong. 
Set in the backdrop of Chinatown, you will be introduced to various characters from a reimagined 1950s to 1960s – inspired by actual people. As the tour progresses, immerse yourself in the rich history of Chinatown.
Fun fact: The stretch of shophouses along Sago Lane within Chinatown used to be "death houses". It accommodated many Chinese who specifically went to these spaces to die as they believed dying in their homes would bring bad luck to the rest of the living occupants. Hence, it was not an uncommon sight to see many shops selling funeral items like coffins and paper houses. 
Sago Street: located right by the iconic Buddha Tooth Relic Temple & Chinatown Complex
Although these shops no longer line Sago Street, you may pop by the neighbouring Smith Street which still has an existing joss paper shop called "Nam's Supplies". As a way of keeping up with the times, it is not an uncommon sight to see such shops selling Gucci bags, iPhones and many more – all made out of joss paper.
Nam's Supplies: Spot the range of drinks they offer that cater to Singaporean taste buds, from Fanta Orange to Tiger Beer.
Throughout the tour, your Game Master will keep you engaged and immersed in their story-telling, while also encouraging you to do your best to find the murderer – all these amidst the hot and humid Singapore weather. 
Credits: Tribe Tours
The Heritage Collection team has experienced this ourselves. Although we are no Sherlock Holmes, we were able to solve a few puzzles (okay, two puzzles) without any further hints. As you progress through this murder mystery tour, there will be games of varying difficulties. However, if you are stumped, your Game Master will drop further hints to assist you. Thus, this murder mystery tour is definitely suitable for everyone, regardless of your capabilities at such games.
The Niu Che Shui murder mystery game hosts up to groups of 2 to 5 and safe-distancing is implemented between the groups. Tickets for adults cost $50, for children and seniors it would cost $45. The game typically lasts for 2 hours on average but that also depends on how fast you can catch the murderer. 
Head over to their website to find out more details and make your booking. In-house guests of Heritage Collection also get to enjoy exclusive discounts. What are you waiting for? Plan your mystery-filled staycation with Heritage Collection on Chinatown and TRIBE tours today.
Date: Every Sunday, 10am – 12pm
Ticket Pricing: $45 to $50
Sweetea Caffe: 15A Trengganu Street
A street view of the cafe.
For an afternoon of relaxation and a great view, head down to Sweetea Caffe located along Trengganu Street. If (or When) the weather decides to be nicer (and when dining in resumes), you have the choice to dine alfresco on the balcony, where you will be granted an unobstructed view of the picturesque Chinatown shophouses and the famous People's Park Complex.
Enjoy a gorgeous view of People's Park Complex and rows of shophouses from their balcony seating.
A  pretty sweet view from the 2nd floor indoor seating and a cozy area situated on their 3rd floor.
Fear not for those who do not wish to sit (or roast) under the sun, you may dine indoors on both the second and third floors where you too may enjoy the view by their window seatings. 
High Tea set. They currently have a promotion for their soju with a "buy 2 get 1 free" deal! Photo Credit: Sweetea Caffe
The cafe not only boasts a great view, but also carries a variety of dishes to choose from – burgers, pastas and more. Sweetea Caffe also offers high tea sets that start from an affordable price of $38.80 and includes their crowd favorite ondeh ondeh cake! 
Those who wish to dine in the comforts of their rooms in Heritage Collection on Chinatown (which is only 5 minutes walk away) or their home, Sweetea Caffe is also available on food delivery platforms such as Foodpanda, Deliveroo, Grabfood, Delivery Chinatown and Hungry Panda. During Phase 2HA, they accept takeaway or self-pick up (at their physical shop) anytime daily from 11am to 6am. 
Sweetea Caffe – a perfect place to escape from the hustle of our daily lives and have a meaningful time with your friends or family while soaking up the sun. Just remember to bring your sunscreen!
Opening Hours: Mon – Sat: 11am – 10pm                
Pek Sin Choon: 36 Mosque Street
Head down to their physical store down at Mosque Street for a day of nostalgia.
Pek Sin Choon is famous for its "Renowned Unknown Fragrance" (不知香 bu zhi xiang) – a type of Nanyang tea. The tea got its name from the store's founder, Pek Kim Ou, who was unable to describe the taste of this tea in words. How did this tea originate? Purely accidental! 
A store aunty packing tea leaves the old-fashioned way.
Back then, when the imported tea leaves arrived in Singapore, they became wet. In order to salvage these wet tea leaves, tea merchants began to blend the old and new tea leaves (of various tea species) then re-dry them through means like roasting, frying and baking. This accidental process gave rise to the unique fragrance of the Nanyang Renowned Unknown Fragrance Tea. 
Traditional Packaging of the Renowned Unknown Fragrance Tea Leaves.
The distinctive pink and white packaging is not a stylistic choice, rather, one they chose as it was a more accessible option whereby the pink wrap was used to pack medicinal herbs in the past. To this day, they continue to use this pink and white packaging where store aunties and uncles can still be seen packaging the tea leaves by hand. Though labor and time intensive, Pek Sin Choon seeks to retain this traditional cultural aspect of their history. 
The Renowned Unknown Fragrance tea should be an amber color! Yes, you may sift the tea leaves out when drinking.
However, we chose not to so we could read our tea leaves (Harry Potter fans unite). Okay, we actually did not have a sift with us.
Curious as to how this Renowned Unknown Fragrance Tea tasted, we headed down to their shop to get a packet to try. If you are unfamiliar with the concept of brewing Chinese tea, you may consult this webpage for modre details (we did). While we are no tea connoisseurs, the Renowned Unknown Fragrance tea at first sip was surprisingly smooth, not too bitter and left a pleasant aftertaste.      We enjoyed the first few sips, and before you know it, we were out of tea leaves!
Tea Caddy Pewter with Goldfish Engravings. Photo Credit: Pek Sin Choon
Visit their physical shop, only 5 minutes away from Heritage Collection on Chinatown  to try out the various types of Nanyang tea that are all wrapped in the traditional triangular and squared paper pacaging. Aside from Nanyang tea, they also carry other Premium tea flavors and tea accessories such as tea caddy (used to store tea leaves).  
Opening Hours: Mon – Sat: 8.30am – 6.30pm, closed on Sunday
Tip: The next time you visit a Bak Kuh Teh shop, request for the Renowned Unknown Fragrance Tea instead of your usual to pair with your Bak Kuh Teh. You will not only be impressing the server but also your tastebuds! 😉
The Moon: 37 Mosque Street
Photo Credits: The Moon
A chair that swings you to the moon and back (comes at astronomical fees). Photo credits: The Moon
Situated inconspicuously amongst the rest of the shophouses on Mosque Street, one would certainly have to pause and peer in to notice the shelves of books decorated around the shop – which also doubles as a cafe. Just a five minutes walk away from Heritage Collection on Chinatown, be prepared to devote an entire day in the cafe/store and not even realize it! 
The Moon hosts an extensive collection of books that ranges from thriller, feminism, LGBT and many more. 
Spy the cute drinks' packaging! Photo Credits: The Moon
However, those aren't the best part! The best part would be the in-house drinks (tea is even refillable) which would certainly ease the experience of getting lost in the world of books. Our recommendation would be their Chai drink which is both milky and rich, leaving a shadow of cardamom lingering on your tastebuds. (Bear in mind that the cafe will be closed for dine in during Phase 2HA, but you can opt for takeaway! Bookstore will be open as usual.)
The Moon also offers their own unique set of merchandise (created by their in-house designers) that one can purchase both in-store and online. They sell Huskee Cups (produced from the waste husks from making coffee), cute graphic Book Plates ($2) and Tote Bags ($20). 
Check out their Embroidered Tote Bag ($160 & comes with a book) – collaborated with an independent textile artist, Alysha,
who embroidered each bag herself so no bag is the same! Photo Credits: The Moon
Aside from that, they often collaborate with local, independent brands and artists. One such collaboration came in the form of plantable candles – yes, you heard right. Once you have finished using the candle, you have the choice to either get a refill or plant it with the seed that comes along with the candle, and the candle holder doubles as a plant pot!
Experience the mystical with their Tarot Reader, Pearlyn. Photo Credits: The Moon
If book reading is not your cup of tea, you could also try your hand (pun intended) at tarot reading. You are recommended to book a slot online or you could always test your luck by heading to the store physically. The readings range from 15 minutes to 90 minutes and charges from $25 onwards! 
Opening Hours: Mon-Sun: 11am – 6pm
Tip: For a quieter time, best visit them between 11am-1pm from Monday to Thursday as they tend to get more crowded the rest of the days! Remember to tag @hericollsg to share with us your experience!
1 Kadayanallur St
A visit to Chinatown is never complete without dropping by Maxwell Food Centre. Rated as one of the best hawker centres in Singapore, you have to try all the local delights on the cheap right here. One of the most nostalgic treats is Maxwell's Fuzhou's deep fried Oyster cake. The crunchy snack is always served piping hot, and it is packed with a hearty portion of juicy pork mince, prawns, oysters and Chinese celery.
You can also easily get your dessert fixed at Woong Kee Traditional Dessert which is also one of the highlights. Every bowl of beancurd is scooped to order, so rest assured that you will get a freshly prepared beancurd. Made with black soybeans, Black Bean Curd with White Syrup is their signature beancurd and it is widely known to be smoother and softer than the original. No matter which beancurd you set your eyes on, you can always choose your preferred syrups and toppings from a variety of options to make it even more flavourful.
Indonesian delicacy served up at Aspirasi Chicken Stall is a must-try as well. Here, you get thickly battered fried chicken that comes with various sauces such as sambal, sweet & sour, lemon, and black pepper. Topped with crispy crumbs, every bite of this fried chicken is packed with flavour. What's more, you can always top up your fried crumbs for free so there's no need to scrimp and save the crumbs till the last bite. Other popular local delicacies that you should not miss would include Dim Sum and Prata!
7 Maxwell Road, Amoy St
Lunchtime expedition doesn't just stop at Maxwell Food Centre. In fact, Amoy Food Centre is another pitstop where foodies hang out not just for lunch but also for a hearty breakfast.
Coffee Break, situated at level 2, never fails to draw a huge crowd with its unique toast-and-coffee offerings every morning. This coffee business has been around since 1935, and now that it is in the hands of the third generation, you can certainly find modern interpretations of coffee flavours like Macadamia, Caramel Rum, Sea Salt Mint and more. Surprisingly, they are exceptionally delicious and quality ingredients like arabica beans and nanyan beans have been used to ensure that customers get the best value out of it.
If you have a sheer love for traditional hand-made Teochew kueh, then you have to patronise Cha Dian. Here, Cha Dian specialises in a whole range of savoury, vegetable-stuffed kueh that come either steamed or fried. The outer layer is never overly thick and the filings are generous. Topped with an extra dollop of dark sweet sauce, that's simply perfect for a quick snack.


Fusion food is not a new concept but a dish that infuses noth Japanese elements and Indonesian flavours is rarely spotted. At Amoy, this is what makes Rayyan's Waroeng Penyet stand out among the rest. Inspired by Japanese Don, the owners created a Balinese-Japanese fusion dish – Balinesé Gyudon served with Japanese rice, caramelized chicken chunks, a variety of spices and a poached egg. Every bite into the ingredients delivers a punchy flavor and terrific fragrance which to some, the flavor combination is simply gratifying. Amoy Food Centre is home to great eats. If you are still craving for more, you can try out other local or contemporary fusion delicacies at Thami's, Kinobe, Wah Kee Noodles and Hakka Yong Tau Foo too!

—
If you are a fusion-food lover,  you're in luck. Without having to get on the next flight out to Japan, you get to indulge in a bowl of Wagyu beef donburi for just $10. Imagine the delicate slices of roasted wagyu dressed on top of a mound of Japanese short-grained rice coated in spicy rich sriracha sauce. Oh, and not forgetting the finishing touch — an onsen egg carefully topped off the mountain of treasure. Just $10? Yes, it's definitely a steal! 
Next to the murals at Amoy Food Centre, you can easily find A Noodle Story, well recognized by Michelin Bib Gourmand Guide since 2016. Do not expect authentic ramen at A Noodle Story, rather be prepared to taste a premium rendition of wanton mee and prawn mee with a Japanese ramen twist. You can catch how our "hawkerpreneurs" cleverly take our local delicacies a step further by infusing Japanese cuisine into their creation right at their stall. They serve up springy, umami-laden noodles adorned with tender slices of 36-hour sous vide pork belly char siew, a crispy potato-wrapped prawn, large succulent wantons, an onsen egg that will make you salivate even before you start digging in.
264 South Bridge Rd
Widely known as the national cake of Singapore, Pandan chiffon cake is very much loved by the locals. It is a fragrant, light, fluffy, green sponge cake flavoured and naturally-coloured with the juices of Pandan leaves. Bakeries that specialise in Pandan chiffon cakes like Pure Pandan in Chinatown are hard to come by.
Located in the heart of Chinatown, Pure Pandan prides itself on sourcing all natural juice from real Pandan leaves, and staying true to its old-fashioned techniques to ensure the highest quality of its bakes. The texture of its classic Pandan cake has been acclaimed by many to be airy, soft and fluffy. Everything about this cake is delicate — from the pandan flavour and fragrance down to its texture.
Now, you can even enjoy Pandan swiss rolls in addition to its signature chiffon cakes.
Fluffy and spongy, this aromatic cake can be eaten as an afternoon tea snack or saved for a dessert. If you're looking for interesting flavours, they also have Pandan Durian and Pandan Cream Cheese cakes!
If you're looking for other interesting bakes to try, how about some egg tarts or indie croissants?
Chinatown, Telok Ayer
Looking for some artsy street art for the 'gram? Away from the CBD drag lies many good spots that feature Yew Chong's popular murals. An accountant turned self-taught mural artist, Yew Chong first pursued this side interest of his when he was given the permission to paint some murals on a wall at Everton Road. The public appreciated his artwork that thematically underpinned Singapore's rich historical heritage and cultural elements.
He eventually decided to pursue his passion full-time, with the aim of using wall murals to record historical sights and stories, mostly from his childhood memories. You can easily spot his masterpieces at Spottiswoode Park Road or along the side of the corridor as you step into 51 Waterloo Street. Where else? We are not spilling the beans, but here's a hint. There's a total of 14 hidden stories waiting for you to discover along the sidewalks of Chinatown, Telok Ayer and even Kampong Glam – 2 of them are on our buildings. So, be ready for this adventure!
Want more engagement? Go check out LocoMole, an experiential discovery mobile app that can bring the murals alive through Augmented Reality (AR). This is in partnership with the artist himself, so if you are lucky enough, you will get to listen to the stories behind these murals by Yew Chong himself while uncovering little surprises off these walls. One last thing! Remember to bring some props… and a friend along to take the perfect picture for you! Say cheese!
288 South Bridge Rd
You'll want to set aside at least 2 hours for this astounding Buddhist temple. Just a few minutes away from Heritage Collection on South Bridge, this temple has been captivating its visitors with its staggering opulence and lavish quantities of gold incorporated into its Tang Dynasty-inspired architecture and artefacts.
Yes, the sight of this iconic temple with its red pillars and detailed sculptures is simply breathtaking and a masterpiece. Dedicated to the Maitreya devotees, this temple was built in the heart of Chinatown to house the holy relic that was discovered in a collapsed golden stupa in Myanmar in 1998.
The construction of the temple would not have been possible without the kind donations and sponsorship, which mainly consisted of donations of gold which were melted to construct the stupa for the tooth relic. All in all, the temple raised S$43 million from more than 60,000 donors. The construction of the Buddha Tooth Relic Temple and Museum was completed in 2008, and a consecration ceremony was held on 17 May 2008.
What's interesting about this temple is that it has 4 storeys, a basement level and a rooftop. On the rooftop, you can check out the Vairocana Buddha Prayer Wheel, Ten Thousand Buddhas Pagoda, and also a roof garden.
244 South Bridge Rd
Venturing deeper into Chinatown, you're likely to find yourself standing in awe in front of the majestic Sri Mariamman Temple. Like every visitor, you simply cannot ignore the marvel of this elaborately carved 6-tiered tower over the temple gates. It is absolutely stunning!
The Sri Mariamman Temple is Singapore's oldest Hindu temple. It was constructed in 1827 for worship by immigrants from the Nagapattinam and Cuddalore districts of South India. It was first constructed out of wood and attap, and then converted into a brick-and-plaster temple in 1843. In 1973, Sri Mariamman Temple was declared a National Monument by the Preservation of Monuments Board. Back in the colonial days, the temple was once the Registry of Marriages for Hindus
If you're looking to immerse yourself further in this culturally-rich experience, be sure to catch the age-old Hindu rituals performed by priests, worshippers and musicians in the early evenings at the temple. However, remember to adhere to the temple's strict etiquette and dress codes before you enter. If you're visiting between mid-October and mid-November, you are in luck! Make sure you take this opportunity to observe one of their main festival's procession (Theemithi), commonly known as the Fire Walking ceremony that happens only once a year.
Realty Centre, 15 Enggor Street, #12-01
This halal, non-alcoholic rooftop bar is definitely a gem right in the heart of the Financial District.
Wanderlost's dining space gives you a feeling of homeliness – sofas, rugs and potted plants. You can also find some of the classic story books in there as well. Its dining area extends to the alfresco rooftop area, where you can bask in the amazing views of neighbouring skyscrapers. It also has an instagram-worthy corner for your usual #ootd where you can strike a pose with a neon pink sign as your backdrop.
The bar's concept revolves around childrens' storybooks and classic novels. Its bespoke mocktails are carefully crafted with the drinkers' wellness in mind. The ingredients used are healthy products like fruits, spices, juices, and herbs. Be wowed by their selection of drinks like The Ugly Duckling, Charlie and the Chocolate Factory, Harry Potter and The Philosopher's Stone, and The Alchemist.
Enjoy your mocktails with a huge variety of food to taste. If you are health conscious, don't worry about savouring every bite as their food is mainly grilled and oven-baked.
Limited seats are available at Wanderlost so be sure to make your reservations in order to not be disappointed!
18 Raffles Quay
Lau Pa Sat, or directly translated to Old Market, is the place to be for a quintessential hawker-centre-style dining experience. Let us give you a little history about the place first before we delve into the gastronomic aspect of it.
Lau Pa Sat was previously known as Telok Ayer Market, and it was first opened in 1823. However, upon its completion, the building was deemed as unsafe. The timber and attap structure was declared defective, and was later replaced by tiles on the roof. But the structure remained unsafe up to 1830. A new market building was then introduced on the same site in 1833.
As the decades went by, the city experienced new changes and developments. Eventually, the area was planned to be redeveloped into a commercial and financial district in the early 1970s. This would mean that the wet market will become out of place among other commercial buildings. In 1972, the building stopped operating as a wet market and transformed into a hawker centre. It was also gazetted as a national monument in the same year.
A decade later, Telok Ayer Market was again converted into a festival market and was officially renamed Lau Pa Sat in 1989. Lau Pa Sat underwent one final refurbishment and reopened in 2014. The key feature that is still standing since the 1800s is the clock tower that has a clock face on every side and the bell still chimes every 15 minutes.
Today, it remains a significant landmark nestled within the towering skyscrapers of the Central Business District. It is also a popular lunch venue for the office workers, and a hot dinner spot for tourists.
If you are looking to try some of Singapore's popular hawker foods, Lau Pa Sat has plenty to offer – such as chicken rice, satay and seafood. There are a few stalls offering similar dishes so be sure to look at the different menus before you order. Lau Pa Sat also has Halal options available for our Muslim friends. The hawker centre becomes more bustling at night when Boon Tat St is closed and the hawkers set up their tables and chairs on the road. Relish the smells, sights and sounds of Singapore's favourite hawker centre. Here's the best part, it is only a 5 minute walk from Heritage Collection on Cecil.
1 Wallich St
Standing at a height of 290 metres, Guoco Tower is a mixed-use development skyscraper and it is also Singapore's tallest building! Yes, it's the building that's piercing towards the sky.
Guoco Tower is an integrated development, where you can find a good mix of commercial, office, retail and residential spaces within the 64-storey building. The construction of the tower forms part of the effort to rejuvenate and revitalise the Tanjong Pagar district. The towering skyscraper also adds a hint of modernity amongst the heritage shophouses you can find in the area. Guoco Tower has also received international recognition for its design, architecture as well as its commitment to environmental sustainability. Its eco-friendly features include energy-efficient lighting and water systems and glass facade to minimise solar heat gain.
Guoco Tower has a range of options for dining and socialising with co-workers, friends and family. Immerse yourself and be spoilt for choice within its 100,000 square foot of retail and dining options that spans across 6 storeys. For our foodies, they have a dynamic mix of food options to choose from, and you can find most of them in the basement floor of the building, which is also conveniently connected to Tanjong Pagar MRT Station.
Kick off your shoes, relax and unwind at its 150,000 square foot Urban Park. It has a green lawn, rooftop gardens, and a wide open space sheltered by a glass canopy for recreational and lifestyle events such as pop-up stores, Zumba classes or just enjoy their lunchtime pop-up shows. Stay updated with their latest happenings by following their Facebook or Instagram accounts so as to not miss anything that peaks your interest!
20 Duxton Rd
Tucked within yet another heritage shophouse is this little gem known as Littered With Books. Located just 3 minutes away from Heritage Collection on Tanjong Pagar, this independent bookstore is home to a wide genre of books – from literary, non-fiction, and sci-fi to travel narratives and children's books.
Book-lovers, this place is your haven! As you step into the store, you will be embraced by the familiar sweet, musky smell that drifts into your nose. This smell lingers as you browse through the neatly organised books, and lose yourself in your little happy place.
You may feel a little lost when you first visit the store but don't worry – their friendly owners will be happy to show you around and give you the best recommendations. We suggest reading their blog or follow them on Facebook to get on the latest updates on the store.
157 Neil Road
Heard of the term Peranakan? Peranakans often fall in between the cracks of our traditional notions of race in Southeast Asia. It was historically used as a term to refer to the various ethnic and cultural groups that were scattered across Singapore, Malaysia and Indonesia. One of the most prominent Peranakan groups in Singapore is none other than the Peranakan-Chinese. Bet some of you didn't know that our first Prime Minister, the late Mr Lee Kuan Yew was also a Peranankan descendent, right?
Visiting the 3-storey townhouse with more than 160 years of history will help you better understand the Peranakan culture and heritage. As a past ancestral home to a Peranakan Chinese, you will get to explore the history of the Straits Chinese through the lens of the Wee family who descended from shipping merchant Wee Bin. While you're at it, be sure to check out the collections of exquisite Peranakan artefacts and historical records of the Straits Chinese that may sometimes leave you in awe.
However, you should note that visits to the House are strictly by appointment and visitors are required to sign up in advance for a heritage tour. So, remember to do your research and book in advance!
1 Neil Rd
Jinrikisha is a Japanese word that translates to "man-powered carriage". It is also known as the rickshaw – a small cart with large wheels that is pulled by a single man. When it was first introduced on the island in 1869, rickshaws replaced horse-drawn carriages as the primary mode of transportation for the general public due to their affordability. The rapidly increasing demand for rickshaws saw its numbers doubled in 1902 from 2,000 in 1883.
The building was built in 1903 and opened in the following year to serve as the main depot for rickshaws. The shape of the building site gave rise to the unique design of the station, a "V"-shaped structure featuring a curved corner facade topped with a square tower with an octagonal cupola. The station was a centre for the registration of new rickshaws and the inspection of the serviceability of those plying the streets until the start of WWII.
After the war in 1945, trishaws took over as the popular mode of transportation. There were also concerns and criticisms on rickshaws as a mode of transportation that insulted human dignity and infringed upon human rights. The colonial government then enacted a ban on rickshaws in 1947. Rickshaw pullers became trishaw riders, and the station became obsolete. It was eventually reused as a family-planning clinic, and maternal and child care centre before it was gazetted in 1987 as part of the Tanjong Pagar conservation area.
In 1989, the national monument was slated for commercial redevelopment, where the building was converted into a shopping and recreation centre. In December 2007, celebrity Jackie Chan bought the building at the price of S$11 million.
The building is located just minutes from Maxwell food center. So drop by after lunch and see marvel at this historical landmark.
168 Telok Ayer St
Whenever we hear 'musical box' the soothing melodies of Für Elise starts playing in our head. Musical boxes were a popular and important symbol of European culture back in the 19th and 20th Centuries. During the colonial era, Singapore played a major role in the progress and development of musical boxes in Southeast Asia.
The museum officially opened on 14 January 2016, and it is still fairly new. It is housed in the Chong Wen Ge building. Translated to the "Institute for the Veneration of Literature", it was the first educational institute set up in 1849 by the Chinese community in Singapore. In 1915, it became Singapore's first Hokkien girls' school, Chong Hock Girls' School.
Come visit the Singapore Musical Box Museum where you get to discover how musical boxes gain traction, how they made their way to our shores in the 19th Century, and be enchanted by antique musical boxes!
1G Cantonment Rd
Have you ever come across photos of these towers, and have always wondered what they were? Towering over the Tanjong Pagar shophouses are actually the world's tallest public residential buildings. Standing at 50 storeys or 163m high, these public housing developments are atypical of Singapore's Housing Development Board's (HDB) public housing projects. The Pinnacle @ Duxton emerged as a winner at the Chicago-based Council on Tall Buildings and Urban Habitat (CTBUH) Annual Awards Programme 2019. The success of the building inspired the development of other high-rise public housing projects like SkyVille and SkyTerrace at Dawson located in the Queenstown neighbourhood.
Completed in 2009, The Pinnacle @ Duxton is home to 1,848 families in seven high-rise residential blocks. These blocks are linked by a series of sky bridges and sky gardens located on the 26th and 50th floors. Each of these sky gardens are 500m long, and forms the world's two longest sky gardens. The heart of the city is not only home to the world's tallest public housing buildings, but also the world's longest sky bridges, and that is amazing!
On the 26th storey sky bridge, you can find facilities such as a jogging track, fitness corner, outdoor gym and children's playground. However, these facilities are only exclusive to residents. The general public can access only the 50th storey sky bridge, where you get to enjoy breathtaking views of the city at no cost at all! Do note that for safety reasons, only 1,000 people are allowed on each skybridge, at any one time. So, if you want to see Singapore from a higher vantage point, head on down to the Pinnacle @ Duxton when you're here – just a ten minute walk Heritage Collection.
3B River Valley Rd

Bored of basic dining experience and mundane food itinerary? Level up your food adventures at Holey Moley Golf Club! Here is where you get to have a fun-filled gastronomical experience. The golf club is beginner-friendly, so you don't have to worry about embarrassing yourself tremendously.
To spice up your mini-golf experience, Holey Moley offers themed courses such as Game of Thrones, Flintstones, Pacman and many more! They are all instagram worthy too. Don't miss the opportunity to get your #ootd shots at these amazing courses.
Holey Moley Golf Club knows that mini-golfing is hard work, and The Caddyshack bar has got you covered. They have plenty of options to choose from – pizzas, burgers, hotdogs, and finger food – pair them with any drink of your choice. Non-alcoholic drinks and mocktails are available too!
Dress up and have fun at Singapore's most unique mini-golf course. Walk-ins are welcomed but we recommend booking a table to not miss this opportunity! Be sure to also check out their official website and social media pages for the latest updates and offers.
Tarik: 78 Arab Street
Simple, to the point and delivers what its name promises. Inconspicuously tucked away amidst the many fabric shops that line Arab Street, the smell of spices wafting from the shop would probably hit you before you spot it. 
A shop mainly catered towards takeaway, their menu hosts an assortment of drinks at very affordable prices. From Saffron tea to Milk tea, there is a drink for every craving. 
Aside from drinks, Tarik also sells light bites such as samosas and sandwiches. They also have desserts like ondeh-ondeh cake and brownies. If you are quick enough, you may even get your hands enough on their lunch bento set. 
What's better, is that if you book a staycation at Heritage Collection on Arab, the Tarik is just right beside teh entrance of our hotel! With a drink in your hand, you can explore Kampong Glam and not worry about venturing on a sunny day.
29 South Bridge Road

Singapore's tropical climate can get too hot at times, and here's a tip for you to cool down while getting your dopamine fix. Dopa Dopa Creamery offers artisanal ice-cream. Its creamy handmade gelato, sorbets, and nut butter are made with 100% natural ingredients.
Be spoilt for choice as Dopa Dopa serves a range of self-made flavours straight from pozzettis. Try out their crowd-fav, the premium home-roasted nut butter flavours Pistachio and Ferrero (Hazelnut), and Watermelon Mint – sounds refreshing! Dopa Dopa also serves festive flavoured ice-cream like Pineapple Tart during Chinese New Year.
Dopa Dopa's specialty is pairing it's premium gelato with butter croissant – yes, you read that right! If you are dining in the cafe, treat yourself to this beautiful combination of their stretchy gelatos and croissant, with a cuppa coffee or tea at the side. For our to-go travellers, these gelatos do not melt quickly under the Sun – so grab yours quickly and set off to your next stop!
Here's what our Guest Satisfaction Manager, Arynna, has to say: Dopa dopa is dope! The ice cream is more on the creamy side, just the way I like it. My go to flavour is pistachio. Perfect for Singapore's weather.
80 Boat Quay, Level 5, Rooftop

Who knew you could have access to a great rooftop bar experience from your doorstep? When you're done exploring the city during the day and want to hang out at night but you also don't want to spend extra on Grab or taxi, Southbridge bar is the perfect place to be.
It gives you one of the best views of the River and the city skyline, alongside a group of friendly staff who ensure that you have the best time. You can also catch a glimpse of the Marina Bay Sands laser light show right where you are. Get ready to be dazzled when the skyline lights up at night.
Oyster lovers – indulge yourself in a premium selection of freshly shucked oysters from around the world. They are definitely the highlight of Southbridge's menu. For those who are not into oysters, don't worry, Southbridge also offers a wide range of food like smoked salmon, wagyu beef sliders and the classic tortilla chips and dips.
Southbridge serves modern cocktails and bubblies to pair with your mains. An extensive list of champagnes, prosecco and handcrafted craft cocktails awaits. Head down to Southbridge bar to unwind and discover your new favourite craft cocktail.
Here's what our Guest Satisfaction Manager, Jarwin, has to say about our favourite rooftop bar: Cozy spot with the best rooftop view! Oysters come with different choices. They serve finger foods too! Price is right for the view. Great crew, drinks and good vibes!
Sing Swee Kee Chicken Rice: 34 – 35 Seah St
Seah Street is no stranger to the world-renowned chicken rice – hence its moniker as Singapore's authentic Hainanese chicken rice haven. The fragrant dish was introduced to the country by Hainanese immigrants who settled along Seah Street and Purvis Street in the 1940s. It was actually born out of frugality, created by the servant-class trying to stretch the flavour of a simple chicken dish.
In fact, multinational news network CNN has hailed Hainanese chicken rice as one the "World's 50 Best Foods" in 2018.
Just a few steps away from Heritage Collection on Seah, you'll find Sing Swee Kee Restaurant (est. 2001). While it has retained its old school charm, the refurbished restaurant is bright and spacious, with outdoor seating too for those who would prefer the surrounding heritage shophouse aesthetics.
This unassuming star dish comprises slices of poached chicken, aromatic rice cooked with chicken stock, fresh tangy chilli, and it is served with a variety of dipping sauces such as soy sauce, garlic sauce, ginger sauce, and minced chilli. Roasted chicken is also a great option for those who prefer a more savoury flavour.
The menu at Sing Swee Kee boasts a wide variety of sides and accompanying dishes, so get ready to be spoiled for choice. Our highly recommended ones include Sweet and Sour Pork, Shrimp and Onion Omelette, Kailan with Oyster Sauce, and Cordyceps Flower Chicken Soup.
Don't wait till your last day during your stay with us to have a go at Sing Swee Kee's authenthic Hainanese chicken rice! One meal won't be enough. If you would like to bring the flavours home with you, you can even purchase bottles of their homemade sauce – the Signature Chilli and Green Ginger!
When you're done, walk the meal off inside Singapore's largest street market – Bugis Street!
1 Empress Pl

The Asian Civilisations Museum (ACM)  is housed within what was previously known as the Empress Place Building. The building was initially built to be a courthouse, but instead became offices for government departments located in the adjacent Arts House. It was used as government offices until the late 1980s, and is best known as the Registry of Births and Deaths, the Citizenship Registry, and the Immigration Department. The building was gazetted as a national monument on 14 February 1992.
Before making the Empress Place Buildings its forever home, ACM was located at the Old Tao Nan School building, where the Peranakan Museum now stands. On 16 September 2014, the museum was named the top museum in Singapore and ranked ninth in Asia by TripAdvisor's Travellers' Choice awards. It was the only Singapore museum ranked among Asia's top 10 museums.
The museum started off focusing only on Chinese civilisations, but later expanded its collection to other parts of Asia. Today, ACM's collection consists of objects and ethnological materials collected in Southeast Asia, such as crafts, tools and costumes of the Malay and other indigenous Southeast Asian cultures. You can also find collections from West and South Asia. All of these collections aim to highlight the roots of Singapore's different ethnic groups in the various cultures and civilisations of Asia.
Do check out what are the various events and exhibitions in the museum if you are interested in more than just the collections the museum has to offer.
3E River Valley Road

Listen up, thrill seekers: if you're looking to get your adrenaline pumping during your trip to Singapore, then this activity is for you! You may have heard of it or watched the videos on Youtube, and if you're wondering what it feels like to experience it for yourself, wonder no more.
The GX-5 Extreme Swing can only be found in New Zealand and Singapore. It plunges from a height of 50m – that's about as high as the Supertrees of Gardens by the Bay. Its speed goes over 120 kph, faster than a cheetah. The 5-seater capsule first rotates to face the river before it is pulled perpendicular to the ground with the riders facing downwards. Without warning, it releases and the next thing you know you are being thrown around in the air.
Do note that there are ride restrictions in place and you are required to adhere strictly to the safety rules at all times. These restrictions include minimum age and height requirements.
Papi's Tacos: 39 Seah Street
For our foodies who enjoy Mexican food, look no further! Heritage Collection on Seah's friendly neighbour, Papi's Tacos, can take you on a trip to Mexico in no time.
The taqueria has a cosy dining setting, with bar-top tables and retro Mexican film posters on lining the wall welcoming you as you step in. You will also be greeted by the friendly staff with their warm Mexican hospitality.
Papi's Tacos has a wide variety of tacos and other Mexican dishes for you to choose from! At Papi's, you'll find a good range of tacos – from Tacos de Chorizo to Impossible Tacos. Yes, they have an option for our vegan friends too! The tacos come in sets of 2 or 3 and they are bite-sized portion served on corn tortillas. The succulent and juicy meat are very well complemented by the flavourful salsa. At Papi's Tacos, they have the salsa verde, chipotle salsa and the guajillo salsa – and these are homemade. They also come in different spice levels, suitable for those who are not very good with spicy food.
Our team's favourite would be Tacos de Pescado, which consists of grilled white dory, fresh cabbage and smoked chipotle aioli. It's $13 for a set of 2 ($19 for 3). So be sure to try this one out! If you are fickle-minded on which taco to go for, we recommend getting Papi's Platter. It serves 8 of Papi's favourite tacos alongside the Holy Trinity (chips + tomato salsa + guacamole). The platter costs $55 and it's good to share among your party of 4.
If you prefer to grab a quick bite for lunch, we recommend getting the chicken quesadilla ($14), served with homemade salsa and sour cream, or Burrito de Suadero ($18) if you'd like something more filling.
Of course, what's a taqueria without its bebidas? Here at Papi's, they offer a vast selection of tequila, mezcal and cervezas. Go ahead and ask the friendly staff for their recommendations and they will be more than happy to share with you some of their favourites. Papi's also serve a good variety of non-alcoholic beverages.
Be sure to include Papi's Tacos in your itinerary with us. There's no excuse to skip this tacos joint as it is literally next door to Heritage Collection on Seah. The only regret is to not stop by and enjoy those mouth-watering tacos. When you're there, remember to tag us your experience!
New World's End: 85 Desker Road
Experience a street-immersive audio story with New World's End, created by the biggest names in the Singapore arts scene. New World's End is OH! Open House's first permanent installation.
Grab your map, put on your headphones — take a night walk through back alleys and hidden fantasy rooms, into the underbelly of Singapore. Travel back in time to the 60's and discover the forgotten histories of Jalan Besar through the eyes of two ill fated lovers. Follow along the story of Kiran, a cinema projectionist at New World Amusement Park, and Rosa, a cabaret dancer at the Park, as they fall in love.
There's no better way to experience the city; watch the rich, historical neighbourhood evolve, seen through the eyes of Kiran and Rosa. Finish up the tour with a drink at a secret pop-up bar: a mysterious painter's studio. 
Days: Wednesdays, Fridays, Saturdays, Sundays
Showtimes: 5.30pm | 6pm | 6.30pm | 7pm | 7.30pm | 8pm | 8.30pm | 9pm
Ticket Price: $35
Duration of Experience: ~ 60 to 90 minutes
Contact Email: hello@ohstories.sg
Website: https://www.ohstories.sg/home
Tip: Enjoy 15% off your tours when you book a stay with Heritage Collection to obtain your promo code.
Bras Basah Complex: 231 Bain St
If you are a crafts or book enthusiast, Bras Basah Complex is the place for you! The Bras Basah Complex is the hub for all things books, stationery, and craft supplies. Built in 1979, it became home to the bookstores that were operating along North Bridge Road and Bras Basah Road. It quickly became a centre for bookstore owners and gained itself the name 'city of books'.
Before you venture into the Complex, be sure to look at the building from a distance. Sitting above the 5-storey complex is a 25-storey residential block. Bras Basah Complex is an example of a mixed-use building in Singapore – it houses both commercial and residential units. 
An interesting feature of the residential block is its open space, called a void deck in Singapore, is located on the 5th floor. You can venture up to the 25th floor for a bird's eye view of the Civic & Cultural District. Walking around the void deck is a little like walking on rooftop gardens – it's just that it is actually the ground floor of the residential building.
Today, the Complex houses stores like Popular and Art Friend – store names that are familiar to most in Singapore. For our avid bookworms, there is a little gem on the second floor that sells preloved books at very affordable prices. We'll leave you to seek them out, and remember to tag us when you find it! 
So, if you want to travel back in time to catch a glimpse of Singapore 80s-style, Bras Basah Complex is worth checking out. For those of you who can't resist books and crafts supplies, we suggest setting a spending budget before you explore this paradise.
Be sure to tag @hericollsg when you visit to share your experience with us! 
Kampong Glam Street Corner Heritage Galleries: Kampong Glam
If you're done visiting all the big national museums in Singapore, we are now inviting you to come and discover small, independent museums.
Located a stone's throw away from Heritage Collection on Seah is Kampong Glam's Street Corner Heritage Galleries. This is part of the National Heritage Board's (NHB's) initiative to raise awareness of and foster deeper appreciation for heritage in everyday spaces, that is through local shops and businesses in the district.
There are a total of 7 'living galleries' in this initiative and they are: Bhai Sarbat Singapore, Sin Hin Chuan Kee, V.S.S. Varusai Mohamed & Sons, Jamal Kazura Aromatics, Rumah Makan Minang, Sabar Menanti Nasi Padang and Warong Nasi Pariaman. Do any of these names sound familiar to you? Here's a quick introduction to some of them. 
Bhai Sarbat Singapore
For our teh halia (pulled ginger milk tea) fanatics, this name is no stranger to you! Home to one of the best teh halia in town, the store has been around since the 1950s. It initially operated out of a trishaw before moving into the shophouse in 1970. The store has set up tables and chairs along the five-foot way where one can enjoy a nice cup of teh and hang out with friends. Rumour has it that the teh is also best served in a plastic bag for you to drink on the go. You just have to say "teh plastic gantung" (literally translates to teh plastic hang) and you're all set.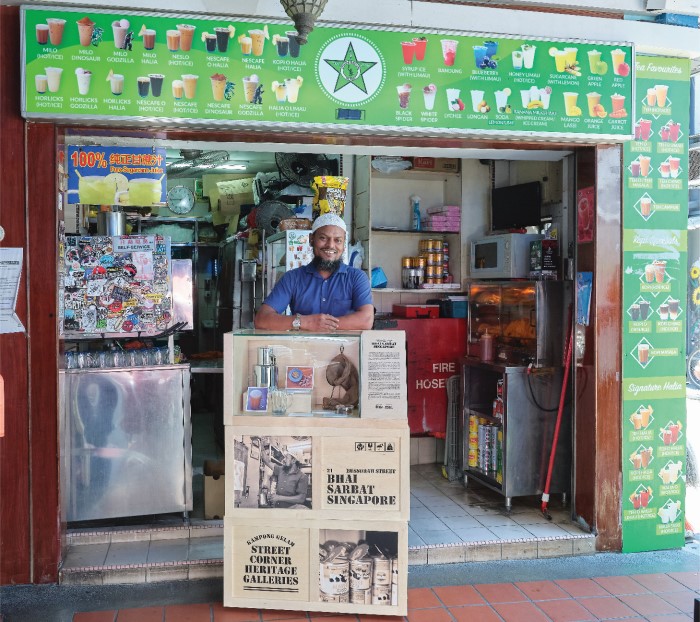 Photo courtesy of National Heritage Board.
Jamal Kazura Aromatics
A few steps away from Bhai Sarbat, be amazed with the endless variety of perfumes for those who are into perfumery. Founded in 1933, Jamal Kazura Aromatics has been concocting an extensive assortment of perfumes for almost 90 years. In its early years, the store also sold items such as books, gemstones and apparel alongside perfumes. In the mid-1970s after the founder's son took over the business, the store started focusing on selling perfumes, essential oils and incense. They also started specialising in minyak attar (non-alcoholic perfumes), which are popular among the Muslim patrons in the district. The perfumes are stored in small ornamental bottles which you can also bring home as souvenir. Drop by the store and have a chat with Mr Jamal or his son to learn more about the art of perfume making.
Here's Mr Mohamed Jamal Kazura himself. Photo courtesy of Jamal Kazura Aromatics' Facebook page (@JamalKazurasingapore).
The Street Corner Heritage Galleries are perfect for those who wish to learn more about these hidden gems that contributes to the districts' vibrant tapestry. Be sure to share your experience with @hericollsg when you visit one of these living galleries!
3D River Valley Rd | 30 Merchant Rd | Boat Quay

Back in the days, the 3.2 km long waterway was a major trans-shipment zone and a conduit for trade. Coolies (labourers) manually unloaded cargo from the tongkangs and twakows (bumboats) to the nearby godowns and warehouses for storage and distribution. For that, the Singapore River was always bustling and river traffic was intense as The Quays developed in hubs for economic activities.
The bumboats that you see floating along the waterway today are a form of tribute to the river's heritage. The environmentally-friendly electric bumboats take you on a historical journey as you cruise through the river and marvel at the city's iconic landmarks.
There are 3 types of services that you can choose from: River Taxi, River Cruise, and Boat Charter. Here's the best part – you can start your journey from any of our 3 Quays. Just locate the nearest jetty from our shophouse and enjoy the sights and sounds along the river. Try to spot the Elgin Bridge and our Boat Quay shophouse from the river taxi!
1 Old Parliament Ln

The building was originally built as a residential building in 1827 – a two-storey mansion, for Scottish merchant John Argyle Maxwell. However, the mansion was never intended for its original purpose. It housed the Supreme Court, government storehouse, and the Legislative Assembly House. On 5 June 1959, the mansion became the Parliament House for Singapore's ruling party, the People's Action Party (PAP). The Parliament House served all the way till October 1999, when the new Parliament House opened.
Today, the almost 200-year-old gazetted national monument is home to the Arts House. On 26 March 2004, the mansion opened its elegant and charming spaces to house the city's Arts scene, and home to Singapore's largest annual arts festival, the Singapore International Festival of Arts. If you happen to be in town during the festival week, and if you are into theatre, music, dance, film and visual arts, be sure to check out their website for the latest programmes and updates.
The most historical space of the Arts House is none other than The Chamber. The space used to be where Members of the Singapore Parliament gathered to discuss and debate policies. It still has the original upholstery from 1954, and a castle motif from the coat of arms used during the colonial times can still be seen on some seats. The Chamber can now accommodate up to 200 people, an intimate space for recitals, conferences, and fashion shows. You can even have your wedding reception in The Chamber!
Masjid Sultan: 3 Muscat St
The Masjid Sultan is the national mosque of Singapore. It is a must-see landmark when you are in the Civic & Cultural District. The mosque's iconic golden dome glows under the sun, and it's hard to miss!
The mosque lies in the heart of Kampong Glam – a dynamic enclave where you can find a good mix of traditional trades with modern bars, cafes and boutiques. We recommend setting aside half a day to venture around Kampong Glam.
This religious building earned its national monument status on 8 March 1975 for its historical and cultural significance, especially for the Malay/Muslim community in Singapore. 
As you take a step closer to its doorstep and look up, the base of each golden dome is embellished with glass bottle ends! Back in the days, these were collections of the Sultan, donated by the lower-income Muslims who wished to contribute in the reconstruction of the mosque. Everyone in the community – not just the rich – had a part to play in Masjid Sultan's reconstruction. 
Walk-in visits are available at the mosque at selected times. Be sure to check their official website for more detailed and updated information.
Curbside Crafters: 730 North Bridge Road
Situated within Kampong Glam, Curbside Crafters is a local marketplace dedicated for crafters, craft-lovers. With accessibility at its fingertips, Curbside Crafters is a mere 5 minutes walk from the nearest Bugis MRT station.
As you enter the store, you will be greeted with enthusiastic crafters at their booths. Spanning across two floors of the shophouse, you will be overwhelmed with the myriad of options you can find at Curbside Crafters – you will be tempted to buy everything (we did!). 
From decorative hand-painted rocks to head bands and other bespoke accessories, there is an item (or two) for you. For our travellers, include Curbside Crafters in your itinerary for your visit to Kampong Glam to get your hands on unique, locally-made souvenirs. You can find different groups of crafters boothing here – follow Curbside Crafters on their Instagram page to get the latest update on who will be at the store.
If you get a little tired from all the shopping, you may have a quick rest on the furnitures of a pop-up showroom located on the second floor. The chic, bohemian vibes of the pop-up showroom is highly Instagramable – don't forget to get your #00tds there before leaving!
Be sure to head over to Curbside Crafters to support budding local businesses and most importantly, have fun shopping! Pss… Curbside Crafters is just a street away from Heritage Collection on Arab. So if you've booked your stay at with us, this is the place you would not want to miss.
River Valley Rd

If you plan on taking a step back from all the city buzz during your trip to Singapore, be sure to pack your activewear. Singapore is also nicknamed as the City in a Garden, the little red dot is not all tall concrete buildings and skyscrapers. Put on your trekking shoes, and be prepared to enjoy the lush greenery and expansive lawns Fort Canning Park has in store for you.
As Singapore's iconic national park, Fort Canning Park was the site for many of Singapore's historical milestones. It was once the palace of 14th Century Kings as well as the Headquarters of the Far East Command Centre and British Army Barracks. Important WWII decision to surrender Singapore to the Japanese was also made in the Underground Far East Command Centre (Battle Box).
If you are looking to spice up your nature trail, be sure to hunt for the Fort Canning Tree Tunnel and you'll come across a beautiful underground spiral staircase. The underground spiral staircase is definitely one of the hidden #ootd spots for our cultural influencers. So, here's one more for your 'gram!
CHIJMES: 30 Victoria St
CHIJMES – say it with us, 'chimes'. Yes, like wind chimes! 
The compound was once a girls' school known as Convent of the Holy Infant Jesus (CHIJ) and was established by French Catholic nuns in 1852. This historical building stands on a land area of 154,063 sq ft, and the compound also housed an orphanage, a nuns' quarters, and a chapel. 
As you explore the compound, you'll also walk through the beautiful white cloisters. These are covered walkways typically found in convents and cathedrals. There are also plenty of spiral staircases along the corridors. These are perfect for your Instagram #ootds (remember to tag @hericollsg in your posts!)
The Convent of the Holy Infant Jesus was gazetted as a Singapore national monument on 26 October 1990, and subsequently underwent extensive restoration. When it re-opened officially in 1996, it was renamed CHIJMES to pay respect to the school. 'MES' was deliberately added as an onomatopoeia (formation of a word from a sound it's associated with) to make it sound like chimes.
For those of you who don't know, CHIJMES was actually featured in the Hollywood blockbuster movie Crazy Rich Asians. The 19th-century gothic chapel is now a function hall called the CHIJMES Hall and served as the wedding backdrop for the movie's glamour couple Colin Khoo (played by Chirs Pang) and Araminta Lee (played by Sonoya Mizuno). Who knew you could step foot on the actual set of a Hollywood movie in Singapore!
There are plenty of things to see and eat within the complex itself – you'll need at least an hour to walk the entire area, and you're bound to find something. Here's the directory to help you out.
The complex has been restored to house mostly bars and restaurants. So if you're looking to include a fancy dinner in your trip itinerary, CHIJMES is the place for you!
140 Hill St
Ever wondered what building those colourful windows are on? This building is known as the Old Hill Street Police Station. As its name suggests, it was constructed for the Singapore Police Force back in 1934. It housed Singapore's first prison, the old Assembly Rooms of the Town Hall, as well as Barracks for the police personnel. It was also the largest government building in the country at that time. The building's architecture is Neoclassical, typical of many public buildings in England during the 1930s.
There are a total of 927 windows, and they are painted in the colours of the rainbow. If you have plenty of time to spare, you may even personally count the windows.
The building was gazetted as a national monument on 18 December 1998, and it is now home to the Ministry of Communications and Information and the Ministry of Culture, Community and Youth.
Just down the road from the monument, you can also find the Central Fire Station – Singapore's oldest surviving fire station. Walk around the Civil Defence Heritage Gallery to learn more about Singapore's Civil Defence Force.
The upper end of North Bridge Road is commonly referred to as Kampong Glam. Kampong means 'village' while glam refers to 'gelam', the name of cajeput trees that once populated the area. It is located in close proximity to the greater area of Bugis. In the 1980s, the area remained clustered with shophouses, parting ways for a few sporadic skyscrapers dominating the skyline.
Within Kampong Glam, lies Arab Street which serves as one of the main thoroughfares for the eclectic and rejuvenated Kampong Glam. It used to house many entrepreneurs with wooden shacks peddling their wares to passing pedestrians. Now, many people consider the Malay conservation district to be the most vibrant among its peers, for it has successfully found a delicate balance between its youthful vibrancy – through its artistic diversity – and its historical heritage.
Those that are looking to spruce up their Instagram feed or soak in the artistry of the district can find plenty of inspiration in the whimsical backstreets of Kampong Glam. Through the efforts of Gelam Gallery and One Kampong Gelam, artists and students have been commissioned and given space to allow their artistic talent to flourish.
As you head further down on North Bridge Road, you'll step into the Bras Basah precinct – home to a number of temples, museums, artistic practices, shopping districts and dining establishments. You can be sure of surprises on every corner! In the 1970s, congregations of book lovers used to frequent the bookstores that were distributed along Bras Basah and North Bridge Road. With the completion of Bras Basah complex in 1979, the bookstores are now consolidated in the single mixed-use development.

Scroll down to see what this neighbourhood has to offer!
Boat Quay, which is located on the Southern bank of the Singapore River was part of the old port of Singapore. In its heydays of the 1860s, it served most of the island's shipping businesses. Here's an interesting nugget: Chinese traders described the south of the river as resembling the belly of a carp (Li Yu) and they regarded this to be an auspicious symbol.
Sand from the hill at Battery Road was used to fill the mangrove swamps, stabilising the river banks to increase business and trade at Boat Quay. The bulk of goods that shipped from plantations in Malaysia and Indonesia were stored in the godowns and warehouses located along its banks. Business grew so quickly that by 1852, three quarters of all shipping activities in Singapore were conducted at Boat Quay. 
Clarke Quay was once a major trans-shipment zone and a conduit for trade. Coolies (labourers) manually unloaded cargo from the tongkangs or twakows (bum boats) to the godowns and warehouses for storage and distribution.
The shophouses in the area were originally 2 to 3 storeys high – coolies and working class families lived on the upper floors, and the ground floor units were used for shops and trading offices.
During its glorious past, Clarke Quay was also an important location for Chinese opera performances and street storytelling sessions. 
In current times, Clarke Quay's colourful restored shophouses are best explored at night when the bars and restaurants along the stretch are lit up and vibrant with activity.
In the 19th century, as the population and business activity increased along Boat Quay and Clarke Quay, tidal swamps up-the-river were reclaimed to make way for Robertson Quay. The first entrepot trade buildings were located here.
Surrounding Robertson Quay is the district of River Valley. Its proximity to the city center and bustling Quays drew wealthy Europeans and Chinese merchants who wanted to build their homes in the "country" to escape the burgeoning crowd around the wharves and city center. Today, you will see luxury condominiums and lovingly-conserved shophouses along the River Valley artery.
While Robertson Quay is considered to be the quieter cousin of Boat Quay and Clarke Quay, we encourage you to visit this neighbourhood because it is a lovely place to take a stroll after you've had a nice meal at one of the many international restaurants along the Quay. Venture a little further out and you'll find yourself at the wondrous Fort Canning Park, Singapore's historic urban oasis on a hill.
Curious about these shophouses that are a link to Singapore's past? Stay with Heritage Collection and experience what it's like to live in a historic building outfitted with all the modern conveniences!
Outlining the neighbourhood is South Bridge Road, where you can find 3 prominent religious buildings – Sri Mariamman Temple, Jamae Mosque, and Buddha Tooth Relic Temple and Museum. Each of these religious buildings has their own unique story to share.
Kreta Ayer translates to "Water Cart" in Malay. In the past, bullock water carts were used to transport water drawn from a well near Ann Siang Hill. Hence, the district name was established! Within the Kreta Ayer, neighbourhood, you can find a variety of things to explore. One of it is the Chinatown Food Street. Try and locate Yip Yew Chong' magnificent Cantonese opera mural in the area and try imagine what life around the opera was like.
Club Street sits on part of a larger area known as Ann Siang Hill. The hill was initially known as Scott's Hill, named after the owner Charles Scott who cultivated a nutmeg and clove estate on it. He sold it to John Gemmill who later christened it as Gemmill's Hill. Finally, the hill became known as Ann Siang Hill after it came to be owned by Chia Ann Siang, a wealthy Chinese businessman who built his house and estate on the site. Read on to see some of the gems we've picked out for you to enjoy in this neighbourhood.
Tanjong Pagar lies in the heart of the Business District. It is home to towering skyscrapers and also other hidden gems located within the Heritage shophouses in the area. In Malay, Tanjong Pagar means "cape of stakes" – reflecting its origins as a fishing village as the area had many kelongs (offshore fishing traps).
Tanjong Pagar has many streets that hold quirky tales. It is also within the Tanjong Pagar ward, where our late founding father, Mr Lee Kuan Yew stood for elections.
On the junction of Cecil Street lies Boon Tat Street. It holds tremendous historical significance. The street takes its name after Ong Lee Boon Tat, a former municipal commissioner and businessman who owns New World Park – an amusement park in Jalan Besar.
Along Boon Tat Street today, you can find a variety of food options to choose from – perfect for our foodies!
Scroll down to find out what are some of the gems you can find in this neighbourhood.